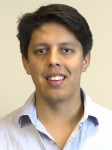 A reporter's murder in his hometown became Javier Panzar's impetus for delving into journalism. Since then, his reporting has taken him to the forefront of polarizing issues time and again.
Recent Comments
Coming soon.
Stories1
Reporter Javier Panzar overcomes his fear of reporting in Spanish and finds new perspectives from those in truly alienating circumstances.
Increased federal penalties for migrants illegally crossing into the United States have skyrocketed in the last decade, but for many at the Juan Bosco migrant shelter in Nogales, Mexico, family trumps all.
Paul Ingram, a master's candidate at the University of Arizona's School of Journalism, spends much of his time focusing on science and environmental issues in the Southwest, the place he has called home since birth.